Burberry launches digital and interactive advertising
Published
today
Jun 29, 2010
The English label has developed a completely interactive communication campaign which allows users to handle images. The first adverts are just released online.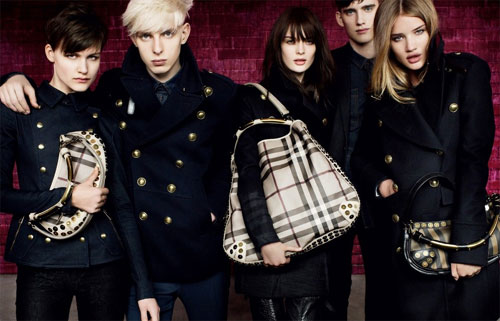 Burberry Autumn-Winter campaign 2010
Burberry's new publicity campaign allows viewers to select and rotate images through 180° and pause videos. Technological innovation made this feat possible since it allows users to select and control the viewpoint and the perspective on the adverts, the products and the principal topics.
"This campaign protects our authenticity and out heritage, all while developing the way we communicate our values" Christopher
Bailey
, Burberry's Creative Director explains. Burberry adverts have always been characterised by the dynamic British casting and "I wanted to put across the individuality and energy engaged by different personalities in the casting. Burberry's roots lie within innovation and outer clothing and I wanted for all those who see the campaign to not only see the images but feel part of what we have created; connecting people across the collections, technology, music, attitude and emotions captured".
Letting the users take control, they can also feel closer to the collection, the models and to the background scenes.
Already on the internet, everyone can envision the following collections:
Burberry Prorsum
, Burberry London, Burberry Brit and Burberry Accessories Autumn-winter 2010, all which contain 14 images and 6 interactive videos. The global campaign launch will take place in July 2010.
Copyright © 2019 FashionNetwork.com All rights reserved.